Design
The shape of things to come.
You'll find the best of both worlds in the new Kia EV9. A rugged off-road vehicle with a strong presence. And an agile electric vehicle perfect for the city. Inspired by nature and modernity, the EV9 commands attention with bold geometry and futuristic lines. From front to back, distinctive design features add to its unique character and confidence. On the road and off.
Exterior
A modern high-tech look: Our entry 'Earth' trim features auto release flush door handles, rear privacy glass and uniquely designed two-tone 19" alloy wheels.
Signature LED taillights: Every angle makes a statement. The clean tailgate body includes hidden wipers and a unique star map lamp graphic to set you apart.
Bold 21" GT-line alloy wheels: The geometric design of the lightweight 21" aluminium wheels and the wheel cover with eye-catching exterior shape add to the EV9's memorable details.
Dual panoramic sunroof: You and your passengers will always be able to enjoy the view around you, with two perfectly positioned sunroofs designed to let the outside in.
Stand-out headlamps: Cube LED headlamps with Z-shaped daytime running lights bring a bold, futuristic design aesthetic to the new Kia EV9 GT-line's eye-catching front.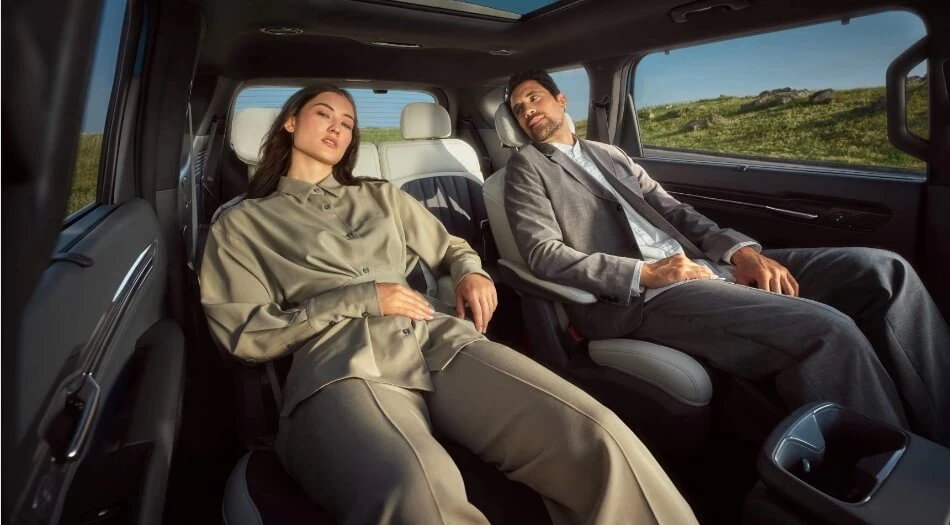 Interior
Steering wheel with illuminated Kia emblem*: LED lighting on the steering wheel illuminates the Kia emblem at the centre while you're driving, adding another stylish touch to the new EV9 GT-line's sleek interior.
Space for everyone to enjoy: Kia's first ever 3-row EV offers ample space for everyone, with equal comfort in every seat from the first to the third row. And thanks to a roomy trunk, you can bring along whatever you need.
Convenient Frunk storage: Additional space is right where you need it. Simply use the electrified hood opening system to access the frunk's generous storage.
Triple Panorama display: Keep the essentials right where you need them. A long, light, minimalistic dashboard with a clear interface presents information via a 12.3" supervision cluster, 5.3" centre display and 12.3" touch infotainment display.
Flexible Swivel Seats: Enjoy the freedom to move exactly how you choose, with Swivel Seats in the second row that you can switch around to interact, connect and communicate with one another.
Premium Relaxation Seats: Settle in, stretch out and enjoy a few minutes of relaxation while you charge your EV9. Relaxation Seats are available for the first and second row, providing full comfort for you and your passenger.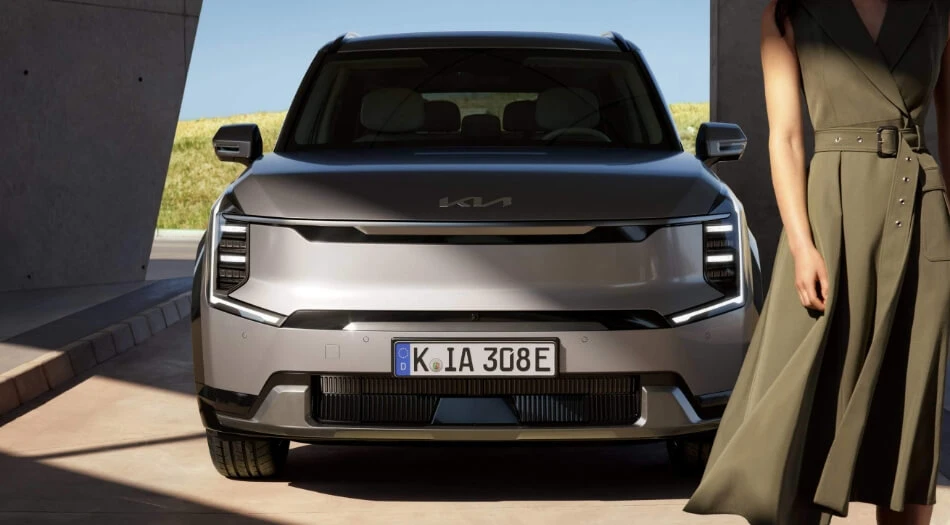 Charging & Range
Seamless, speedy charging.
Your convenience is a priority in the new Kia EV9. That means ultra-fast, hassle-free charging to recover up to 249 km in just 15 minutes, from your home or a public station. A high-voltage, large-capacity battery to keep you powered up. And an impressive driving range that allows you to venture as far and wide as the road – and your imagination – takes you.
Go further. Do more.: Charging won't need to slow you down, with ultra-fast charging of 249km in just 15 minutes, or 10% to 80% in 24 minutes. The new high-voltage 99.8 kWh battery pack stores more energy and allows for an even longer range of up to 563km.
Smart charging technology: The EV9 takes energy efficiency to the next level. With the V2L (vehicle-to-load) function, you can charge items like laptops and camping equipment with a maximum power of 3.68kW via your car. And looking to the future, V2G (vehicle-to-grid) charging will allow you to return electricity back to the grid.
Public charging: Charge your EV9 quickly and efficiently from one of many conveniently located charging stations in your area.
Home charging: Straightforward home charging keeps charging simple and economical.
Sustainability
Materials reimagined.
As we move toward more sustainable, responsible mobility, we're making choices big and small to make an impact. The EV9 makes sustainability a priority, with carefully and consciously chosen materials for the interior. These upcycled and plant-based materials respect nature and reduce the impact on the environment. All while bringing full comfort and style to the sleek interior.
Unleather seats: Stylish, tactile vegan leather replaces regular leather for the seating surfaces, reducing animal skin processing and creating a smaller carbon footprint.
Recycled fishing nets: The carpet of the new Kia EV9 is made using recycled fishing nets that are salvaged from the ocean and cleverly repurposed.
Recycled PET bottles: As part of our commitment to move responsibly together, the EV9's trims, seats and interior fabric are made from recycled plastic bottles and wool fibre.
Smart sustainability: Introducing "Unleather", the use of upcycled and biomaterials as an alternative to conventional leather.
Safety
Intuitive safety features.
There's a true peace of mind that comes with knowing you and your passengers are taken care of. That risks are mitigated and every caution is applied. The new Kia EV9 uses advanced, intuitive safety features to bring autonomous driving one step closer, and to help keep you and everyone around your vehicle safe while driving and parking.
Highway assistants
Highway Driving Assist with Hands-On Detection: HDA2 with HoD automatically adapts your target speed to meet the limit, while keeping you at a safe distance from the vehicles ahead. The upgraded hands-on detection sensors on the steering wheel detect whether you are touching it, even without movement, and adapt your speed accordingly.
Lane Following Assist 2: Staying in your lane is now easier than ever thanks to Lane Following Assist 2. LFA2 uses a front-view camera to recognize lanes and help to keep your vehicle centred in the right place. If you need help to correct your position, it assists with steering you into place.
Anti-Collision assistants
Forward Collision-avoidance Assist 2.0: Forward Collision-Avoidance Assist 2.0 gives you added peace of mind and helps you to avoid any potential collisions with pedestrians, cyclists and other cars on the road. If you are not applying the brakes hard enough to avoid a collision, your EV9 will do it automatically.
Rear Cross-Traffic Collision-Avoidance Assist: Back out of a parking space or driveway simply and easily. With the Rear Cross-Traffic Avoidance system, you'll get an alert that warns if cars or pedestrians are passing behind your vehicle. If there's any risk of a collision, the system will automatically brake.
Multi-Collision Brake: The Multi-Collision Brake offers you and your passengers added protection and reassurance in the event of a crash. After the initial crash, it helps to prevent any unpredictable movements of your vehicle, thereby helping to mitigate the danger of any secondary crashes.
Blind-Spot Collision-Avoidance Assist : Take the worry out of your blind spots. With BCA, you will receive alerts whenever there are vehicles approaching to overtake you, or in your blind spot. If the system detects that there is any risk of collision, it will smartly assist with braking your car to avoid it and lead you back into your lane.
Parking assistants
RSPA2 (Remote Smart Parking Assist 2): You'll never need to worry about navigating your vehicle in and out of tight spots again. The remote parking function does the hard work for you – automatically steering you into place and even performing diagonal parking – all at the tap of your smart key.
Parking Collision-Avoidance Assist, Forward/Side/Reverse: Parking or exiting a space will be no hassle at all, with the Parking Assist Side Forward Reverse function, which warns you of pedestrians or objects close to the vehicle.
Connectivity
Your hub of connectivity.
The perfect journey is about knowing you have everything you need, right where you need it. In the EV9, you'll discover features that make life on the road just as seamless and connected as busy lives demand. Large, clear displays of all the essentials. A sound system to immerse you in the audio of your choice. And enough charging options to keep everyone on board happy.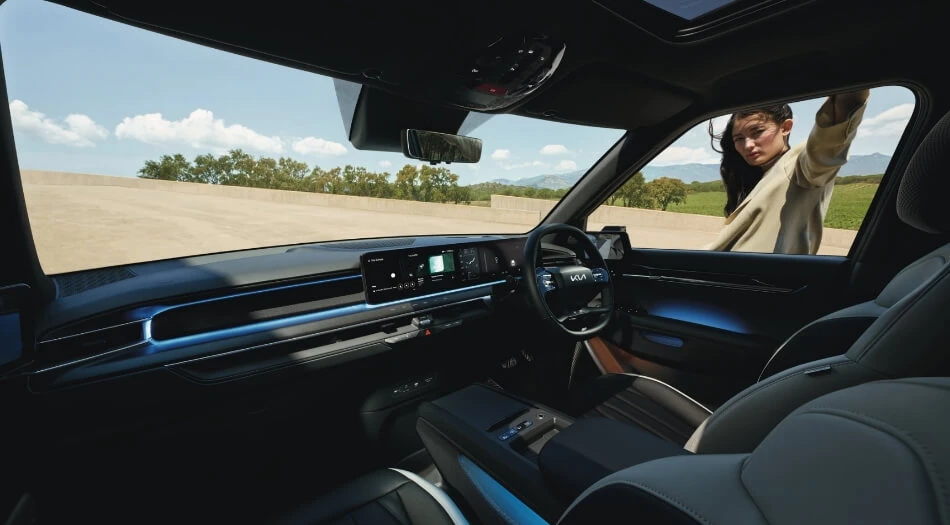 Connectivity Features
USB Type C Charging: The EV9 makes connectivity a priority for everyone on board, which is why there are plenty of charging ports available. You'll find handy, fast-charging USB-C ports conveniently located from the first to the third row.
Wireless Phone Charger: Staying connected to everything you need is a given in the EV9. Charge your phone conveniently on the wireless charger while you're on the go. The rubber pad will prevent the phone sliding out of your view, and the cooling fan decreases heat during charging.
Kia Connect: Seamlessly connect your phone with your EV9 using the Kia Connect app and take advantage of all the additional convenience, peace of mind and practical support on offer. On-board services keep you updated on real-time traffic data, nearby charging stations, parking, weather and plenty of other useful information. Off-board services are just as handy, with remote battery control, climate control and Last Mile Navigation, to name just a few of the many features.
Triple Panorama Display: Seamlessly connect with the world, and each other, via the Triple Panorama Display. The stand-out screens are big enough for both you and your passengers to see all the essentials, with unique, advanced graphics to emphasize information clearly.
Kia Digital Key: Add even more convenience to your journeys with the Kia Digital Key, which allows you to access and start the car via your smartphone. Store the key in your digital wallet and share with multiple drivers for easy access to the car.
Meridian Premium Sound System : Enjoy the rich sound quality of the Meridian premium sound system, which delivers a crisp, clear audio experience for everything from your favourite playlist to your choice of podcast. The Intelli Q feature corrects volume and sound quality as you change speed, making sure your sound is always pitch perfect.
Platform
Technology that moves you.
The EV9 is designed to take you further in every way. You can expect longer journeys, more space and smooth, balanced driving pleasure. The long wheelbase and flat architecture of the Electric Global Modular Platform (E-GMP) provides a generous cabin with lounge-style comfort for everyone on board. The industry-transforming E-GMP also brings you athletic performance and impressive range, with a stable, quiet driving experience even at high speeds
Electric Global Modular Platform (E-GMP): The long wheelbase and fully flat design of the Electric Global Modular Platform (E-GMP) brings you more space, as well as improved overall performance and range. Impressive steering and braking performance, a quiet cabin even at high speeds, and fine turning radius all add to your driving pleasure.
Fourth-generation battery cells: Thanks to the fourth-generation battery cells, you can go as far as the road takes you. Superb all-electric range is achieved through the 99.8 kWh battery pack fitted in both the Rear Wheel Drive (RWD) and All Wheel Drive (AWD) variants.
More room to enjoy: Thanks to the design of the long, flat E-GMP, the EV9 offers ample space for everyone to settle back and enjoy the ride. The three rows of generous seating, including optional Swivel or Relaxation Seats in the second row, allow everyone on board to relax, connect and move in comfort.
Better performance. Even more pleasure.: The new EV9 is built for driving pleasure. You can expect a smooth, balanced ride that's stable and quiet. The tires are optimized to reduce noise, vibration, and handling, making the cabin beautifully calm and quieter than a combustion engine, no matter the speed. And thanks to the E-GMP's flat design, you'll benefit from all the comfort and practicality of a three-row vehicle, with performance that impresses at every turn.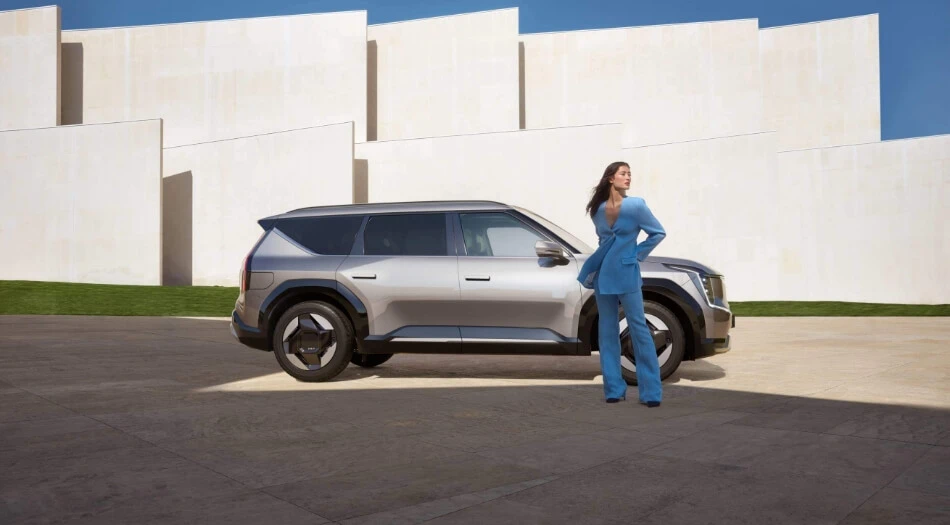 Powertrains & Trimlines
Discover your perfect fit.
The EV9 is available in two electric power train variants and two trim variants, so you can be sure to choose the option that's just right for you and your lifestyle.
EV Powertrains. The choice is yours.
Choose between rear-wheel drive and all-wheel drive to make sure your EV9 delivers the range and performance that suits you best.
Earth - RWD
Combined with the 99.8 kWh battery pack, this rear-wheel drive can take you up to 563km on one charge.* Ultra fast charge of 249km in 15 minutes, so you can stay on the road for longer.
Note: Final figures pending homologation
Battery pack: 99.8 kWh
Drivetrain: 2WD - Rear Wheel Drive
Range: up to 563 km (19" wheels)
Fast charging: 10-80 % in 24 minutes
0-100 km/h: 9.4 seconds
Power: 149.5 kW / 203 HP
Top Speed: 185 kmh
Towing capacity: 900 kg (braked)
GT-line AWD
The EV9's e-AWD system provides optimised efficiency together with supreme grip and performance.
Note: Final figures pending homologation
Battery pack: 99.8 kWh
Drivetrain: AWD - All Wheel Drive
Range: up to 505 km (21" wheels)
Fast charging: 10-80 % in 24 minutes
0-100 km/h: 5.3 seconds
Power: 141.3 + 141.3 kW / 384 HP system output
Top Speed: 200 kmh
Towing capacity: 2500 kg (braked)
Trims. Three bold possibilities.
With three different trim variants, you can give your EV9 a personal touch.
EV9 Earth
19" Alloy Wheels
Vegan Leather Seats
Triple Panroma Display
14-Speaker Meridian Premium Sound System
Highway Driving Assist 3 (HDA3)
360°Surround View Monitor (SVM)
Digital Key 2.0
Heat pump
GT Line (6 Seats)
21" Alloy Wheels
Vegan Leather Seats
GT-line Exterior Styling
LED Cube Headlights with Intelligent Adaptive Beams
Dual Sunroof
Remote Smart Parking Assist 2
14-Speaker Meridian Premium Sound System
Smart Power Tailgate
GT Line (7 Seats)
21" Alloy Wheels
Vegan Leather Seats
GT-line Exterior Styling
LED Cube Headlights with Intelligent Adaptive Beams
Dual Sunroof
Remote Smart Parking Assist 2
14-Speaker Meridian Premium Sound System
Smart Power Tailgate